TRUST IN ME

(#1.5) By: J. Lynn Publisher: William Morrow Impulse Release Date: October 22nd, 2013
It's Wait for You as you've never seen it. Trust in Me lets you in on Cam's side of the #1 New York Times Bestselling story.

Cameron Hamilton is used to getting what he wants, especially when it comes to women. But when Avery Morgansten comes crashing into his life – literally – he finally meets the one person who can resist his soulful baby blues. But Cam's not ready to give up. He can't get the feisty and intriguing girl out of his head.

Avery has secrets, secrets that keep her from admitting the feelings Cam knows she has for him. Will persistence (and some delicious homemade cookies) help him break down her barriers and gain her trust? Or will he be shut out of Avery's life, losing his first real shot at the kind of love that lasts forever?
Guuuys, guys, guys, has anybody read WAIT FOR YOU? Because if you have, you most likely (it is a 99.99% chance) loved it, and so you can fangirl over TRUST IN ME with me! If you haven't read WAIT FOR YOU yet, and you would like to, don't worry - I would never leave you out! Just keep reading on! Tehehe. But anyway, I can't wait to read TRUST IN ME, even though it's only a novella and I want it to be a full novel *cries a little*, and I need to pre-order a finished paperback copy of WAIT FOR YOU so I can display it and shove it in people's hand and scream, "READ IT!" Now can I get one of Cam's homemade cookies? (I will not read that the wrong way. I am mature. I am mature. I am so not mature. o_o)

The spotlight of this post definitely goes to the cover of TRUST IN ME, but I talk so much you probably wouldn't notice! But what do you lovelies think? I really like the blue-green color they used, and I want this so muuuuch. *paces back and forth waiting* *breaks hole in floor* *runs away whistling innocently* I DIDN'T DO IT. If you've read WAIT FOR YOU, I'd love it if you'd tell me about all your feels! If you liked it, loved it, or even if you disliked it, I love discussing books. And if you haven't read WAIT FOR YOU, you should still totally leave a comment and tell me if you want to read it, if you've read Jennifer's previous books, or if you like cake! Anything goes! Wheeee!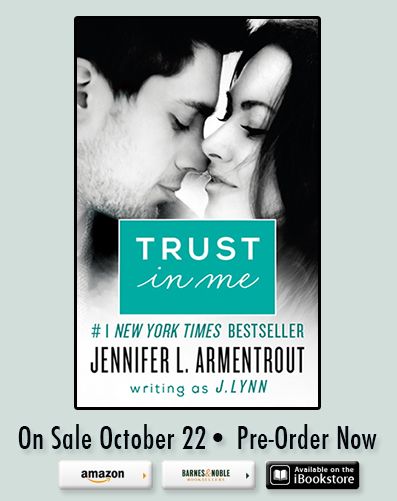 For those of you darlings who haven't read WAIT FOR YOU yet, I promised that I wouldn't leave you out right? There is a giveaway going on and enter below for a chance to win a signed copy of WAIT FOR YOU, as well as an awesome turtle charm! Don't think, just enter! You know you want to!
a Rafflecopter giveaway
P.S. - Cam and Avery, as well as any other couple in Jennifer's books, will forever make me:
Contact Kaede:
Email:
kimberlyho75@yahoo.com