Delirium by Lauren Oliver
Review War
This is hosted on Cuddlebuggery. Head on over there to win a signed copy of Delirium. Also, win a signed copy of Pandemonium below!
The play­ers
In one cor­ner we have Cuddlebuggery's own Grand Madam Queen Mis­tress of the Uni­verse, Kat Kennedy! And in the other cor­ner we have first time guest to Cud­dle­bug­gery, hail­ing from Wake Up at Seven, Princess of Dark­ness, Isabelle Doan!
I expect a nice and dirty fight ladies. Hold no punches and take no prisoners!
Kat Kennedy:
This Kat Kennedy here with Isabelle Doan from Wake Up at Seven Blog and we'll be dis­cussing Delir­ium by Lau­ren Oliver today – or more impor­tantly, why I thought Delir­ium was seri­ously flawed and why Izzy is
WRONG
. Or, you know, on the oppo­site side of that argument…
Isabelle Doan: I may be the under­dog here, Kat, but Delir­ium was prob­a­bly one of my favorite reads of 2012 so far.


Kat Kennedy: I hon­estly can't see why but I am at least will­ing to pre­tend to lis­ten to your argu­ment. As far as Dystopi­ans go – it would scarcely be rated among the best of them.


Isabelle Doan: If you're will­ing to pre­tend then I'll join your imag­i­nary play­house. And to be hon­est, I can see why this wouldn't be a great dystopian but that doesn't mean it wasn't a great novel.


Kat Kennedy: I'm not wail­ing on Lau­ren Oliver – I have a lot of respect for her as an author but the world build­ing was really weak and incon­sis­tent for me. And since it is very firmly a dystopian – I felt that was a let down. Also – my imag­i­nary play­house is awesome.


Isabelle Doan:
I'll agree to that, Kat. As I said in my review, these peo­ple still have ibupro­fen when they have a freak­ing cure for love. How­ever, the char­ac­ters really helped to bring us into this incon­sis­tent world,
AS
YOU
SO
CALL
IT
.
And your play­house is a card­board box.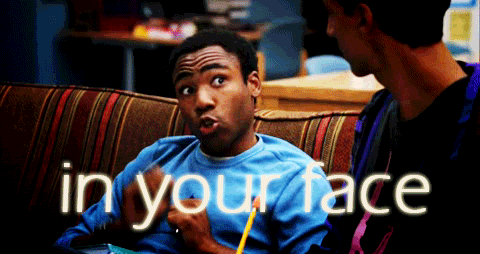 Kat Kennedy:
MY
PLAYHOUSE
HAS
ALCOHOL
!
Isabelle Doan: Well if it has manly alco­hol, I'll retract my statement.


Kat Kennedy: And that's all that mat­ters. Look, the char­ac­ters were okay. I felt the main pro­tag­o­nist was nicely fleshed out but they're not really enough for me to patch up the shaky world build­ing. Alex is very flimsy in his characterization.


Isabelle Doan: Alex is maybe flimsy, but I feel that he has some­thing good that will hap­pen to him in Pan­de­mo­nium. As you can see, he's not reveal­ing all of his secrets- yet. Per­haps Lau­ren Oliver is set­ting us up for an amaz­ing sec­ond novel. He's a tor­tured char­ac­ter, and that's good.


Kat Kennedy:
Oliver has writ­ing chops – there is no doubt. But I don't think set­ting up for a sec­ond novel really excuses an awk­ward first one. I will grant that he is a bit deeper than many male pro­tag­o­nists. And I
DID
enjoy Lena though I felt her back­story was a bit of a copout on Oliver's part.
Isabelle Doan: What part of it did you think was awk­ward, Miss Kat?


Kat Kennedy: Well, like I said, the world build­ing was incon­sis­tent, I didn't think Alex was very well char­ac­ter­ized and I think Oliver bit off more than she could chew in regards to the philo­soph­i­cal aspect of a soci­ety with­out love. For me, it made for a vaguely unful­fill­ing, frus­trat­ing read­ing experience.


Isabelle Doan: Vaguely unful­fill­ing? This isn't a Twinkie, Kat! (Although I could go for one right now.) And the philo­soph­i­cal part is inter­est­ing. No love doesn't mean peo­ple are self­ish, if that's what you mean.


Kat Kennedy: No, I mean in the nur­tur­ing depart­ment and peo­ple not by psy­chopaths. But that's kind of a lot to get into. What did you think about the writ­ing? Did the lan­guage and the tech­nique do it for you?


Isabelle Doan: Well, I think Lau­ren Oliver is awe­some with a pen, although the sim­i­les were too fre­quent, so it felt like I was just read­ing words on a page some­times. If you ever get that feel­ing. And some­times they were awkward.


Kat Kennedy:
I get the feel­ing that I'm read­ing words on a page a lot. Like, all the time. Like, every time I crack open a book,
BAM
! Words on a page. Disgraceful….
Yeah, I gen­er­ally have to agree – but I'm not going to com­plain much – she's pretty pro­fi­cient and she has a smooth style.


Isabelle Doan: You have killed my pride. Pre­pare to die.




Kat Kennedy: In a knife fight?


Isabelle Doan: I was think­ing more goug­ing your eyes out with rusty spoons, but that works too.


Kat Kennedy: You should have those vio­lent ten­den­cies checked out. Maybe your weren't cud­dled enough as a child.


WHICH
BRINGS
ME
TO
MY
BIGGEST
GRIPE
!
I just don't think Oliver real­is­ti­cally explored this con­cept of a love­less society.


Isabelle Doan: The teenagers and chil­dren care for each other, though. As you can see, Lena cared for her lit­tle niece Gra­cie. So it's not as if the chil­dren are com­pletely devoid of love.


Kat Kennedy: Yeah, but that's the thing – we have no real basis to fall on because Lena was raised by a nur­tur­ing, lov­ing mother. And her entire fam­ily is filled with sympathizers.
What about a child that expe­ri­ences no love? Any­where. From anyone?
Because chil­dren don't nec­es­sar­ily make good pri­mary care­givers and solid attach­ments for other children.


Isabelle Doan: If I'm not mis­taken, Hana was one of those chil­dren. Which is why she's such a mav­er­ick when it comes to see what's on the other side. Lit­er­ally, and figuratively.


Kat Kennedy: But that's the thing – she's com­pletely nor­mal. I won­der if Oliver truly under­stand attach­ment or not. I don't know if she has kids.


But there wasn't any explo­ration of the psy­cho­log­i­cal effects of that kind of childhood.
And I don't buy that "nor­mal" is the sta­tus quo.


Isabelle Doan: Okay, so maybe nor­mal isn't the sta­tus quo. But maybe the effects of "not being cud­dled enough" are?


Kat Kennedy: Well, I don't know. On a scale of 1-10 how psy­cho­pathic are you?


Isabelle Doan: Well if one is, trips peo­ple on the street and ten is being like one of those zom­bie can­ni­bals on bath salts – I would have to say 4.


Kat Kennedy: You threat­ened to cut my eyes out with a rusty spoon! A five at least.


Isabelle Doan: I won't go higher than six. Six is cre­at­ing 27 accounts on goodreads to harass other authors and pro­mote my book.


Kat Kennedy: Oh my good­ness. You just went there.
Okay, I think this wraps up that dis­cus­sion! I will be read­ing Pan­de­mo­nium though to see if you're right about it!


If not, I'm com­ing back to get you!


Isabelle Doan: Yes ma'am. But not if the zom­bie can­ni­bals get you first.


Kat Kennedy: Damn those zom­bie cannibals!


Giveaway rules:
To enter, please fill out the Raf­fel­copter form below.


We ask that all entrants be at least 13 years or older to enter.

The give­away is open to every­one,

US

and international!
When the win­ners are cho­sen, it will be announced here and the win­ners will be emailed. Please check your email because we are only giv­ing the win­ner 48 hours to respond! Oth­er­wise another win­ner will have to be selected.
Please enter your email address in the Raf­fle­copter form and not the comments!
Also, please under­stand that we reserve the right to dis­qual­ify any entries we find gam­ing the sys­tem. Cheaters never prosper!
a Rafflecopter giveaway
Thanks again to Kat and Stephanie of Cuddlebuggery who worked so hard to put this together. Kindness just amazes me. You're the best-est-est-est.