By: A.G. Howard
Review by: Kaede
Release Date: January 1, 2013
Publisher: Amulet Books
Pages: 384
Format: Paperback ARC
Alyssa Gardner hears the whispers of bugs and flowers—precisely the affliction that landed her mother in a mental hospital years before. This family curse stretches back to her ancestor Alice Liddell, the real-life inspiration for Lewis Carroll's Alice's Adventures in Wonderland. Alyssa might be crazy, but she manages to keep it together. For now. When her mother's mental health takes a turn for the worse, Alyssa learns that what she thought was fiction is based in terrifying reality. The real Wonderland is a place far darker and more twisted than Lewis Carroll ever let on. There, Alyssa must pass a series of tests, including draining an ocean of Alice's tears, waking the slumbering tea party, and subduing a vicious bandersnatch, to fix Alice's mistakes and save her family. She must also decide whom to trust: Jeb, her gorgeous best friend and secret crush, or the sexy but suspicious Morpheus, her guide through Wonderland, who may have dark motives of his own.
Spun from the classic tale of Lewis Carroll's Alice in Wonderland,
Splintered
explores and charts the darker side of a premise so widely known. Taking on a twisted version of the Wonderland we know of, A.G. Howard introduces a world of possibilities where anything and everything can go wrong. And the moment our female protagonist begins her journey through a terrifying place once known as fiction, well, there was only one thing left to say.
Welcome to the real Wonderland.
May all your dreams fail to come true.
Alyssa Gardner, our main character and narrator, is a fairly typical teenager with a long time crush and the ability to hear the words of bugs and flowers - wait, that's
not
normal? Then what about her mother's situation? Not normal either?
Well then.
Whatever. Have it your way. But
obviously
, your definition of "normal" needs some fixing. Just saying.
But anyhow, Alyssa. I really liked Alyssa, with her interesting personality, and history of having a family of women fall to madness - and Alyssa fears she's soon to follow. The whispers of small insects is just the beginning.
As a single child, I've grown up a majority of my life watching friends who have older siblings and being somewhat envious. Many of them have told me over and over again how much of a pest their older or younger sibling(s) was being, or how cruel and evil said brother or said sister really was. Understandable. But since I've never really had a real brother or sister (I particularly want a older brother), I can't honestly speak for myself. And I have this horrible tendency to want certain things I don't have. And so I really,
really
want a brother.
And in comes Jeb. He's everything I want, if I could have one, my brother to be; protective and caring. And plus, he skates. And anyone who skates gets a gold star from me. And he's
good
at all. OH YEAH. YOU GO, BOY. The scene where he was first introduced in the skating park I was like:
Since the romantic relationships that Alyssa establishes through the series is most fittingly described as a love triangle, it's only fair that I mention Morpheus. Morpheus is Alyssa's guide through Wonderland. Having forged already a connection to Alyssa when she was young, Morpheus now serves as a figure of familiarity but also of heavy suspicion. I really liked Morpheus too, and found myself always amused by him. (And uhm, if you haven't seen it yet,
Unhinged
's cover with Morpheus on it is absolutely gorgeous.)
What is real, and what is not? What is reality and what is purely fictional?
Splintered
is Alyssa's journey towards discovery - of who she is, who she's meant to be, and which boy is
her
meant to be. Complete with the beauty of the writing style, the fluid and vivid descriptions, twisted versions of character that'll be remembered for being exceptional in different ways and reasons,
Splintered
is certainly, if anything, worthy of being read.
A.G. Howard has a talent with words and characters that leave me: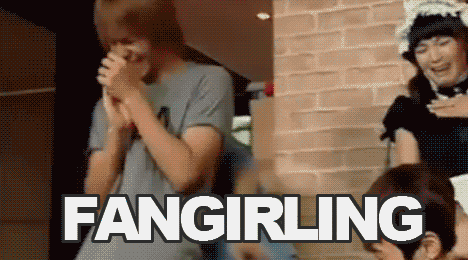 I love her. I swear I do. In that non-creepy, but slightly stalker-ish way. (Oh my god I did not just say that.) DO NOT WORRY THOUGH, I am fairly certain Anita is aware I am a self-proclaimed stalker of her books because she is awesome.
And also if you take a look at the finished copy, complete with
PURPLE INK
and amazing all around, you will not be able to stare me in the eye and tell me you don't love it.
Splintered
was an excellent debut, one of my all time favorites, and I just CANNOT WAIT FOR
UNHINGED
.
*stares at
Unhinged
's release date*
*tries to will it to change to like, yesterday*
No results.
*sobs in a corner*
5 coffee cups!
**An advance copy of this book was provided for review. However, all opinions remain honest and my own.**
~♥~
Contact Kaede: