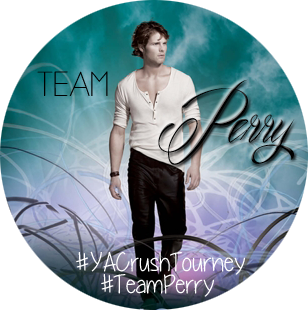 Hello darlings!
So there's this really, really awesome person who may or may not go by the name Nikki (No seriously, it is debatable) and they may or may not be from this really awesome blog called Fiction Freaks that you should really check out.
Nikki (...could be Nick) actually is the chosen advocate in the YA Crush Tourney (sounds official. Dang.) for Perry from the Under the Never Sky series by Veronica Rossi that I loveeeeeeee.
So naturally, I'm Team Perry. And you could be too! Haven't read Under the Never Sky yet? DO ITTTTTTTTTTTTTTTTTTTTT. *coughs* And if you have, I don't see how there's any possible reason you're not Team Perry who may be
occasionally distracted by Roar. But the point is that YOU SHOULD BE TEAM PERRRRRY AND LOVE HIMMMM.
On June 17th, Perry is competing against Torin St. James at YA Sisterhood, please vote for him because every vote counts (and you know you want to). I'm confident we can win!
For more information, contact Nikki or read her POST on Perry because I am hopeless at things like this. And if it's any incentive, I remember reading about some prizes. *wink, wink*
But yeah, TEAM PERRY FOR THE WIN!
More gushing to come. And that's a promise. Until then though, you can check out my review of

THROUGH THE EVER NIGHT

. (I would link

UNDER THE NEVER SKY

too but it's horrible and I need to re-write it one day. If you're extremely curious, I'm sure you can find it looking through 2012 - July. But I wouldn't recommend it because, again, it's horrible.)
LET'S GO TEAM PERRY!