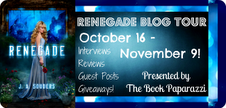 This lady right here is awesome.
AUTHOR BIO:
J.A. Souders lives in Florida with her husband and their two children and is an active member of RWA, DFRW, YARWA, SCBWI, and SFWA. RENEGADE is her first novel.
Since the age of three, sixteen-year-old Evelyn Winters has been trained to be Daughter of the People in the underwater utopia known as Elysium. Selected from hundreds of children for her ideal genes, all her life she's thought that everything was perfect; her world. Her people. The Law.
But when Gavin Hunter, a Surface Dweller, accidentally stumbles into their secluded little world, she's forced to come to a startling realization: everything she knows is a lie. Her memories have been altered. Her mind and body aren't under her own control. And the person she knows as Mother is a monster.
Together with Gavin she plans her escape, only to learn that her own mind is a ticking time bomb... and Mother has one last secret that will destroy them all.


Linkys:
http://jasouders.com/
(Website)
Purchase Renegade:
http://www.bookdepository.com/Renegade-JA-Souders/9780765332455
(the Book Depository)
THY INTERVIEW:
So for this interview, Kaede's questions will be in blue. Ms. Souder's answers will be in green. 'Cause, you know, it matches with the cover... yeah...
How would you describe your debut novel, Renegade?


- Hmm, this is kind of a tricky question. LOL. It's a YA science fiction with dystopian/thriller/horror elements. It's Bioshock (the video game) meets The Bourne Identity. And is about a girl of privileged means (she's basically a princess) who finds out that everything she knows about herself, her people, even the woman she knows as Mother is a complete lie and that there is something much darker and more sinister than sharks lurking in the water's depths

.
There's been a undeniable flood of young adult literature releases over the past few years. Is there something about your debut that you feel will stand out to your readers? Something that'll make them go, "Oh damn. This is the stuff!"
- Yes there has been! Isn't it wonderful?! This is a hard question, because there have been so many wonderful books lately. Well, I personally would say my book will stand out for a few reasons. 1) The setting itself. It takes place in an underwater utopia (but there isn't mermaids or any mythological creatures.) and I think the world building of Elysium and it's citizens will stand out 2) the romance. It's not the focus of the book, but it's an important part of it. It's just enough to spice things up without being too much. Plus no insta-love! and 3) A seriously kick butt heroine who's pretty and feminine,
but not afraid to get her hands dirty and protect those she loves, including a slightly reluctant hero.
Do you have a certain favorite scene in your book you'd like to share with us? *wink wink*
- Well, if it's a *wink, wink* scene you're looking for ; ) I'd have to say it's the shower scene. I don't want to spoil it too much, but it's definitely one of my favorites and involves Evelyn and Gavin and little...ill timing. LOL.
Where did the idea for Renegade spark from?
- Well, I've always wanted to live in an underwater city. I went to school to become a marine biologist and even joined the Navy in the hopes of either starting or living in one. But, well, I never did find that key to Atlantis, so I decided to make one a better way. I'd make it up and write a story around it. After years of scrubbing a ton of manuscripts that just weren't right because an underwater city would be my version of a utopian society, it finally hit me. I was half watching my son play the video game BIOSHOCK and half watching a documentary
on the world's fascination with perfection. It all meshed in my head and the story was born.
Out of curiosity, are you reading or watching anything currently? If not, what books are on your soon to be read pile?
- I'm not reading anything currently, but I've been carrying Velveteen by Danny Marks in my purse for a week in the hopes of squeezing it in at the earliest moment. I just finished Scarlett by Marissa Meyer (OMG, it's so good.), and next after Velveteen will probably be Stormdancer by Jay Kristoff.
And so there you have it! So are you convinced to pick up Renegade yet? If so, head straight down for a chance to win an ARC of Renegade and read it before everyone else does! If you're still deciding, let me point out some definite buzz-words that sealed the deal for me and maybe will convince you to head out and buy a finished copy the day it hits the shelves!
• Young Adult science fiction with dystopian/horror/thriller elements!
Oh and, talk about jealousy! I wanna read Scarlet too! No fair! *pouts*
THY GIVEAWAY:
Just hit the link to get to the rafflecopter form. I'm having trouble getting the actual thing to display. I was never good with the techo stuff. Pfft.